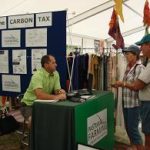 Pastural Farming Climate Research was launched at the Northland Agricultural Field Days on the 27th February.2009.
The society was formed to counter the misinformation about agricultural emissions and the incorrect and unsubstantiated assumptions that blame livestock methane emissions for global warming. At his site at the field days Robin Grieve the chairman of the society received strong support from the farmers that visited the site. Non farmers were very supportive too with a few giving donations to the society. Thankyou to all those who joined us.
Now the launch is over the next phase of the process is to grow the membership of the society. Members are asked for nothing more than their support and the subscription of $50. Our target is 4000 members by June. We need this for two reasons, firstly to have the numbers to lobby Government, and secondly to fund the research we need to substantiate our arguments. We have pitched the subscription at a fairly small amount because farmers are already supporting research through their levies but it is being done by groups who believe livestock do cause global warming. The thousands of dollars each farmer is paying now are wasted because of this.
It is our hope that by contributing $50 to this society farmers will see a stop to that money being wasted because once we prove livestock emissions are not responsible for global warming, all the meaningless mitigation research will be pointless. Our society does not qualify for any of the research money because we do not support the Government line that livestock cause global warming. We are going to have to do it all by ourselves and that is not a problem because we can do it and we will do it. Please support us. Have a look around the blog and join us on this very winnable fight.
Email this link to your friends https://farmcarbon.co.nz/ and get them on board too.